2018 Short Course - 1 day ago
Admission Wristbands, Parking Passes, and Sponsorships
(Click link)
Advanced sales of
ALL SESSIONS -
"
ONLY"
Admission Wristbands and
ALL SESSIONS - "ONLY"
parking passes, and sponsorships
SPECTATOR ADMISSION:
Advanced sale of spectator ALL-SESSION admission wristbands. All-sessions admission wristbands includes Tuesday night through Saturday prelims and final sessions.
Individual sessions or individual day spectator Admission Wristbands can be purchased at the meet.
PARKING PASS:
Advanced sales of ALL-SESSIONS parking passes. ALL-SESSIONS parking passes includes Wednesday through Saturday parking. (Note: Tuesday parking is free for everyone.)
Individual day parking passes can be purchased at the meet.
CHAMPIONSHIP SPONSOR:
Sponsor the championship for $50 WITH or without any all-session purchases. Sponsorships help to provide travel assistance for swimmers in need
All sales are non-refundable.

Advanced sales close at 12 midnight on Thursday March 29, 2018
....More
2018 Short Course - 1 day ago
GAC Pool Schedule
UPDATED: 3/22
As you would expect, all public facilities in Guilford County NC, including Greensboro Aquatic Center (GAC) and Coliseum, will be closed on Easter Sunday. The pool schedule for the weekend and week is:
Friday 3/30: GAC open 7:00am-2:00pm - shared lanes, $5 per swimmer. Please stop at the front deck to check-in and make payment
Saturday 3/31: GAC open 7:00am to 2:00pm - shared lanes, $5 per swimmer. Please stop at the front deck to check-in and make payment
Sunday 4/1: GAC CLOSED
Monday 4/2: THIS IS A CHANGE GAC open 7:00am to 7:00pm - shared lanes, $5 per swimmer. Please stop at the front deck to check-in and make payment At 5:00PM our Pool A (scoreboard side) will close (for set up of race equipment). Pool B and the Dive Well will remain open. The small rec pool will not be available on Monday.
Tuesday 4/3: Championship Check-in, GAC open exclusively for YMCA swimmers at 6:00am-4:00pm (no fee), competition starts at 5:30pm
Wednesday through Saturday 4/4 through 4/7: - Pool opens 6:00am and closes 30 minutes after last race. Dive Well and Rec pools will close at the start of the last race nightly


2018 Short Course - 1 day ago
College Admission Educational Roundtable
(Click link)
The Championship Meet Committee is hosting an educational session at this year's YMCA Short Course Nationals on the college admission process. Our 2011 YMCA National Coach-of-the-Year, Glenn Neufeld will moderate a discussion forum with four college coaches as they talk about the admissions process from their varying perspectives as the coaches of successful swimming programs at four very different institutions of higher education. The event will be held in the Special Event Center on Tuesday from 2:45PM until 4:15PM.
Everyone is invited - Parents, Swimmers, Coaches
....More
2018 Short Course - 3 days ago
Warm-up Schedule
(Click link)
Coaches: Competition Warm-up schedule for Prelims and Finals: 2018 YMCA Short Course Nationals.
....More
2018 Short Course - 4 days ago
Reminders for Spectators
ADVANCE PURCHASE OF SPECTATOR TICKETS
Spectator Advance sales of ALL-SESSION wristbands and ALL-SESSION Parking passes will be available shortly. A new simplified ordering system is being developed and is talking a little longer than expected. Our apologies for the delay.
GREENSBORO OUTSIDE FOOD AND DRINK POLICY
No outside food, snacks, beverages, thermos or cooler are permitted in spectator seating area or Athlete Village.
2018 Short Course - 4 days ago
Reminders for Coaches
ENTRY FEE PAYMENT
All meet entry fees for Y-SCNats will be invoiced and paid through our National partner, TeamUnify. There will be no need to request a check through your YMCA or bring cash to the meet. The credit card that you used when completing the annual registration of your team will be automatically charged your entry fees
after the entry deadline has passed
. The credit card is the one that you have on file and used during team registration or requesting a sanction for a championship.
The invoice generation and charging of the credit card will not occur until after the Meet Entry Deadline (Monday 3/26). You credit card will
NOT
be charged when you submit your entries.
Please ensure that this credit card has a transaction limit that is great enough to cover your meet entries fees and that the credit card will accept a total charge amount that is great enough for your meet entry fees and any other charges you have and plan to make.
TEAM BANNERS
Team banners can only be hung in the Athlete Village and are not permitted to be hung in any other area of the Aquatic Center or Special Events Center.
ASCA
ASCA is offering a special membership rate for teams at the 2018 YMCA Short Course National Championships: Register 1 coach at the regular one-year US membership price ($88), and sign-up the rest of the coaches on your Y staff for just $55 per coach. Details will be available at Coach Check-in
2018 Short Course - 5 days ago
Championship Results
(Click link)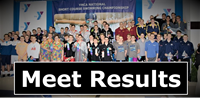 Event results, Links to competition videos, Meet photos, Social media links
....More
2018 Short Course - 5 days ago
OLYMPIC ATHLETES
SCHEDULED OLYMPIC ATHLETES ATTENDING YMCA NATIONALS
ROWDY GAINES
Three-time Olympic gold medalist
Olympic Hall of Fame Member
ESPN and NBC Sports swimming analyst
MODERATOR - ATHLETE WELCOME - Tuesday 4:45pm in Spectator Stands
ELIZABETH BEISEL
3-time Olympian
2016 Olympic team captain
2-time Olympic medalist
World Champion
14-time National Champion
AUTOGRAPH SESSION: Tuesday 3:00-4:30 Special Events Center
ANTHONY ERVIN
Three-time Olympian (2000, 2012, 2016)
Four-time Olympic med-alist (3 gold, 1 silver)
Rio 2016 Olympic Games, gold (4x100m free, 50m free)
AUTOGRAPH SESSION: Wednesday 12 - 2 pm, Special Events Center
BREEJA LARSON
NCAA Division 1 Champion in Breaststroke
Olympic Gold medalist
AUTOGRAPH SESSION: Wednesday 3-4:30 pm, Special Events Center
CRAIG BEARDSLEY
1980 US Olympic Team
World Record Holder
Pan American Games Gold Medalist
Swimming World Male Swimmer of the Year
RYAN HELD (tentative)
2016 Olympic Gold Medalist
NCAA Champion
YMCA Short Course Nationals Record Holder
Springfield YMCA
2018 Short Course - 13 days ago
Join Us for the 2018 YMCA Short Course National Championship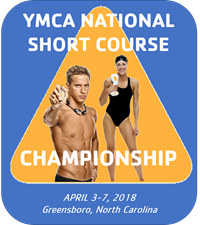 Come join us in Greensboro, NC, April 3-7 for the 2018 YMCA Short Course Nationals. The evenue is the Greensboro Aquatics Center located at 1921 W Gate City Blvd, Greensboro, NC 27403.
With over 1,400 swimmers expected, the 2018 championship is not only an exposition of outstanding swimming competition but also a celebration of achievements by these young athletes. Join us and experience a world-class swimming venue, enjoy the antics of the "infamous" YMCA GateGuys, meet an Olympian at the Athlete Party, and dance and sing to the "Y.M.C.A." song. And let's not forget the Parade of Athletes. This year, the athletes are celebrating their
STATE PRIDE
by donning themselves in related creative costumes and circling the large pool deck for all to see.
And if this is not enough, meet four college/university swim coaches who will provide insight into the college recruiting process. Watch all-day swimming with morning prelims, afternoon time trials, and evening finals. Purchase commemorative apparel. Get an autograph from (and maybe even a picture with) an Olympian.
2018 Short Course - 13 days ago
INSURANCE AND DECLARATION FORM STATUS
(Click link)
For Coaches Only:
Each YMCA that participates in the YMCA National Championship must have a valid Insurance Certificate on file at the YUSA that cover the period through April 7, 2018. The link is to a list of teams with their current Insurance Certificate expiration dates. If your insurance certificate is out of date or will be out of date during the championship, please follow the instructions on the linked page to send your current insurance certificate to YUSA. Note: This list will be updated frequently until the start of the Championship. This list will also include a link for you to check to make sure we received your faxed/emailed declaration form
....More