2017 Short Course - 1 day ago
Gate Guys Song
(Click link)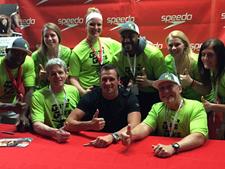 Gate Guys 2017 Short Course Nationals at Greensboro song. Thanks to Bob Kohnke for this year's theme song. Bob is one of our Gate Guys. The song should get you in the mood to come to Greensboro
....More
2017 Masters - 9 days ago
Meet Entry - YMCA Masters
(Click link)
Meet Entry is through Club Assistant. When entering, ALL swimmers (you) should choose your YMCA from the drop down list. Please verify the address for your YMCA. If the address is missing, please supply the address. Meet Entry Deadline: April 13, 2017
....More
2017 Short Course - 10 days ago
Schedule of Activities
(Click link)
This is a schedule of pre-event deadlines, and event activities for each day of the meet. The schedule contains events/activities, dates/times, and locations for coaches, swimmers, officials, and parents
....More
2017 Short Course - 10 days ago
Swim Cap Swap
(Click link)
Swimmers: Bring one or more of your team swim caps to swap with other swimmers....prior to the Athlete Welcome party.
....More
2017 Short Course - 16 days ago
Food and Beverage Policy - Greensboro
Spectators:
Spectators are
not
allowed to bring in any food, snack or beverages into the Aquatic Center or Athlete Village. The GAC will have concessions each day of the meet. The Athlete Village will also have concessions throughout the meet. Re-entry privileges are allowed should anyone want to go off-site for meals.
Teams:
No
outside catering or take- out food is permitted at either venue. A team coach may bring a cooler into the Athlete Village (with water or Gatorade). Swimmers may bring in snacks and power bars for consumption if stored in their back packs,. There will be water available throughout the meet in on-deck coolers for swimmers, coaches and officials. Empty water bottles may be brought in for use at the water fountains.
2017 Short Course - 16 days ago
Athlete Village Setup
Once again this year, we are asking swimmers to use the Athletes Village located in the Special Events Center during Preliminaries whenever they are not swimming. With 1,400 or more athletes attending the competition, the pool deck is too crowded to accommodate everyone. Your cooperation will give each athlete an opportunity to do their best.
This year, teams with 4 or fewer swimmers will be assigned to a large common area unless they contact David Hoover (Greensboro Aquatic Center, Event Coordinator) to request a dedicated area. David's email address is: david.hoover@greensboro-nc.gov. Please make sure you reference the YMCA Short Course National Championship in your email so he knows the associated meet for the request.
Only a coach should make the request to David.
We will continue to assign teams with five or more athletes to a dedicated area within the Athletes Village.
Please remember that everyone is responsible for their personal belongings. Swimmers should never leave any of these items unattended.
2017 Short Course - 16 days ago
2017 YMCA Short Course Nationals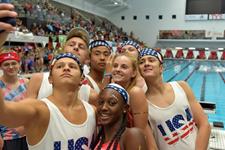 2017 YMCA Short Course Nationals - April 3-7, 2017 at Greensboro, NC Greensboro Aquatics Center, 1921 W Gate City Blvd, Greensboro, NC 27403
The theme for this year's Championship Meet is the
Roaring 20's
2017 Short Course - 16 days ago
Meet Entry - Championship
(Click link)
All Championship meet entries must be made through the YMCA Online Meet Entry System - Entry Deadline is Monday March 27, 2017 at 3:00pm ET
....More
2017 Short Course - 16 days ago
Time Trial Meet Entry
(Click link)
YMCA SC Nationals Online Meet Entry for time trials. Time trials are only open to swimmers participating in YMCA Nationals. Time trials entry is separate from the Main Championship entry. Entry Deadline is Monday March 27, 2017 at 3:00pm (ET)
....More