2017 Short Course - 6 days ago
2017 YMCA Short Course Nationals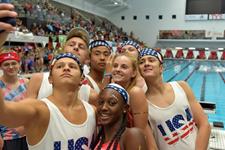 2017 YMCA Short Course Nationals - April 3-7, 2017 at Greensboro, NC Greensboro Aquatics Center, 1921 W Gate City Blvd, Greensboro, NC 27403
The theme for this year's Championship Meet is the
Roaring 20's
2017 Short Course - 6 days ago
ProSwim Awards Pictures
(Click link)
ProSwim Visuals is our official photographer for the YMCA Nationals Championship. This link is to their web site where you can view and purchase pictures, posters, and albums.
....More
2017 Short Course - 15 days ago
Coach of the Year
(Click link)
YUSA
and
SwimOutlet
announced the YMCA 2017 Coach of the Year at the YMCA Short Course National Championship
KIRBY BEIERLE
Missoula Family YMCA
Missoula, MT
....More
2017 Short Course - 20 days ago
Meet Survey - Give us your feedback
(Click link)
THE SURVEY IS CLOSED. THANK YOU FOR RESPONDING
While the 2017 YMCA Short Course National Championship is now over, one more task remains:
To Take Our Survey
.
Over 100 people volunteered their time to plan and run this championship. We now ask you to "volunteer" a few minutes of your time to give us your valuable feedback. Whether your opinion is favorable or critical of the championship, your ratings and comments are important to the Championship's continuous improvement.
We welcome everyone's feedback - from swimmers, officials, coaches, parents, and remote viewers. Tell us what you liked and what you want changed.
Link: click on the heading of this article above;
Password is: 9622
Thank you for your time
....More
2017 Short Course - 22 days ago
Photography Reservations
(Click link)
ProSwim Visuals provides action photography by reservation only, one swimmer per heat, first-come, first-served. Reservations are $40 and include two heats (individual or relay) of coverage and a $20 online credit that will automatically apply toward any order made when proofs are posted after the meet. Additional reservations are $10 per heat.
....More
2017 Short Course - 26 days ago
Proof of Times Selection
The following teams have been selected for Proof of Times. If your team is on the list and you did not receive notice for Proof of Time, please contact Tom Warrick at twarrick@comcast.net
Bloomsburg Area YMCA
Butler YMCA
Carlisle Family YMCA
Central Florida Metro YMCA
Countryside Ralph Stolle YMCA
Eau Claire Wisconsin YMCA
Freeland YMCA
Green Bay YMCA Metro
Hilliard YMCA
Kleptz YMCA
Lancaster and Fairfield YMCA
North Canton Community YMCA
Piedmont Family YMCA
Ridley Area YMCA
Somerset Hills YMCA
Somerset Valley YMCA
South Family YMCA
South Hills Branch YMCA
Springfield Family YMCA
Sunbury Branch YMCA
Tri County YMCA Inc
Wyckoff Family YMCA Inc
2017 Short Course - 26 days ago
Schedule of Activities
(Click link)
This is a schedule of pre-event deadlines, and event activities for each day of the meet. The schedule contains events/activities, dates/times, and locations for coaches, swimmers, officials, and parents
3/16/2017 UPDATE:
Monday's competition start changed from 5:15pm to 5:30pm
....More
2017 Short Course - 29 days ago
Psych Sheet
(Click link)
Unofficial Psych Sheet for 2017 YMCA Short Course Nationals.
If you see a entry time error bring it to Coach Check-in in Greensboro. Missing swimmer(s), contact Tom at twarrick@comcast.net.
Parents/swimmers should direct all their comments to their coach.

ONLY COACHES MAY CONTACT TOM WARRICK, Entry Chair
....More